01
Accelerating IoT
Predicting Mechanical Failures
and Preventing Them in Advance
Using wireless sensors for predictive maintenance of machinery and equipment. Power concerns for these wireless sensors are eliminated by generating power through the vibrations of the machinery.
MEMO
To use machinery and equipment for a long time, it is necessary to grasp their condition and maintain them. For this maintenance management and predictive maintenance, various sensors are used. For example, machine malfunctions are caused by wear and tear or cracks in parts, appearing as rising temperatures or changes in vibration. Knowing these changes allows for failure prediction and countermeasures. Recently, with the spread of IoT, there has been an increase in cases where wireless sensors are used for data acquisition. However, the battery life management and replacement of these modules are challenges. On the other hand, most machines that malfunction vibrate. V-GENERATOR solves this problem by converting the vibration of the machinery into a power source.
01/02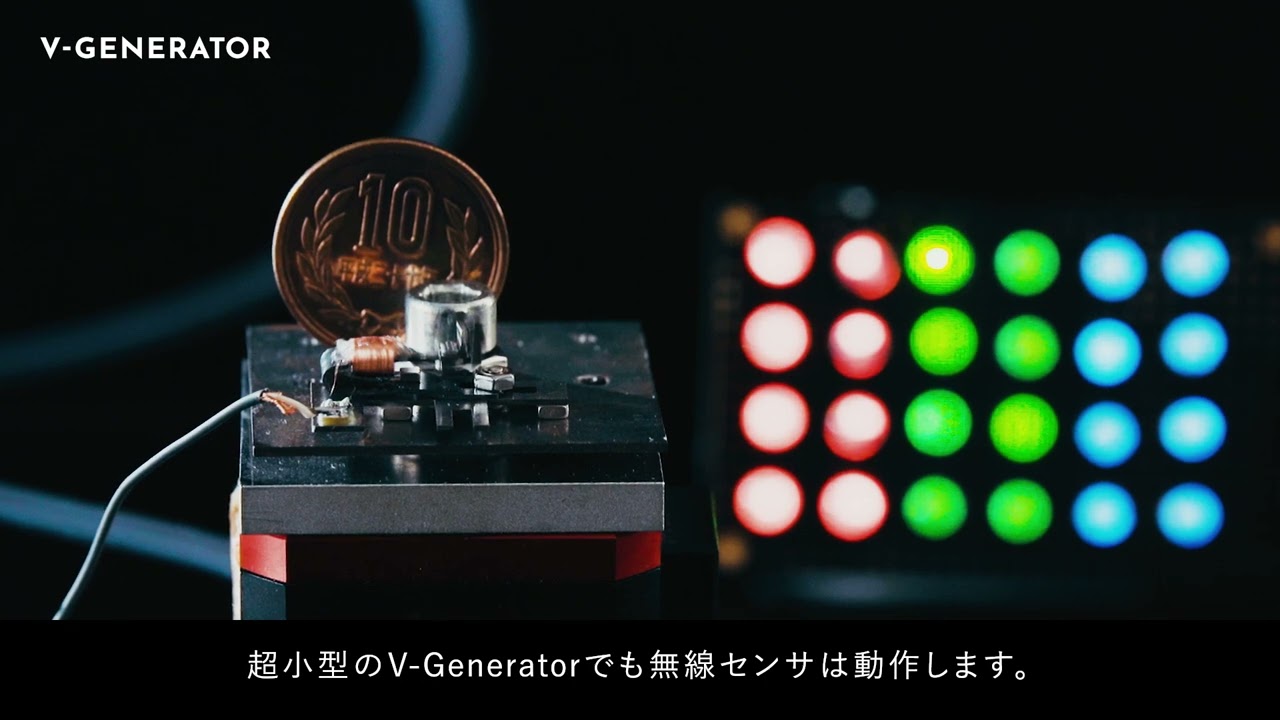 02/02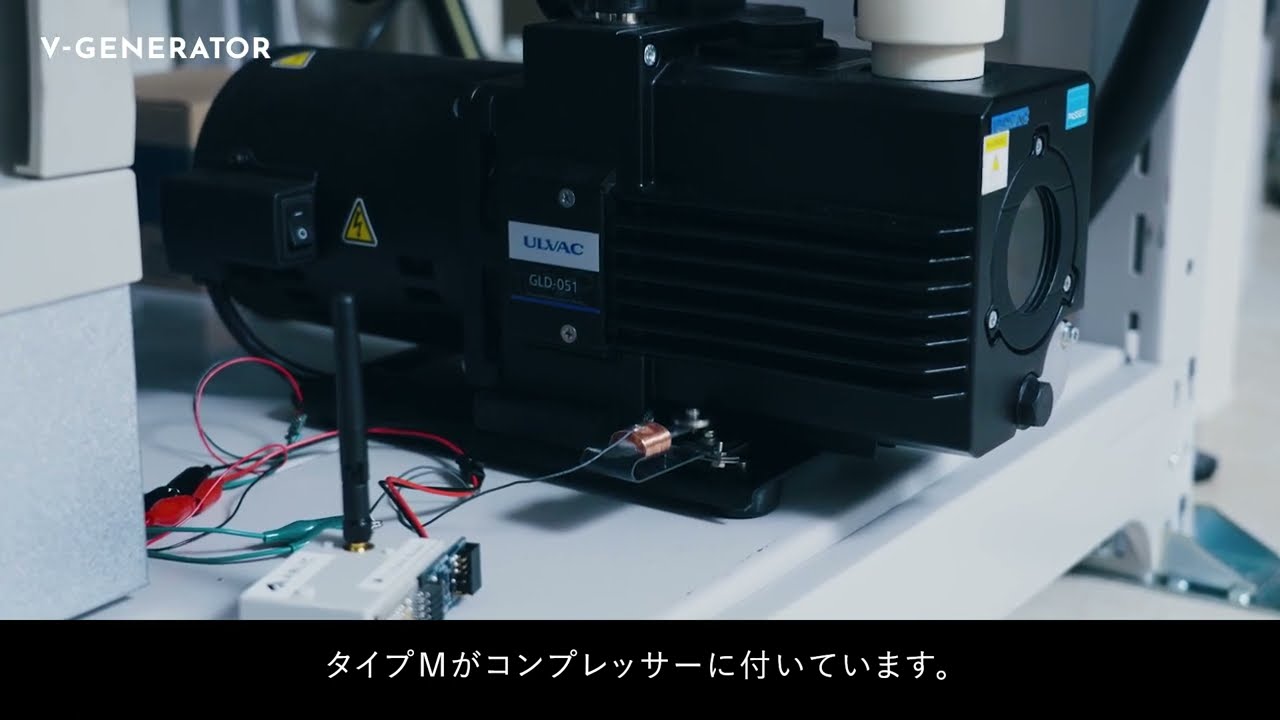 02
Accelerating IoT 02
Inspecting Infrastructure
Effortlessly and Permanently
Bridges can generate power through vibrations. Stored power can be used to remotely transmit sensor data. With this system, regular inspections become unnecessary.
MEMO
Bridges, tunnels, roads, and water pipes in Japan are experiencing aging. Maintenance management and inspection of long-lasting infrastructure are challenges to be solved in the SDGs. However, the budget and manpower available for this are limited, making it difficult to solve the problem. On the other hand, bridges vibrate due to vehicle traffic. By using V-GENERATOR, it may be possible to extract practical power from this vibration. This power source can be used to periodically obtain the sensor data needed for inspection remotely. In other words, once set, it may simplify inspection work.
01/02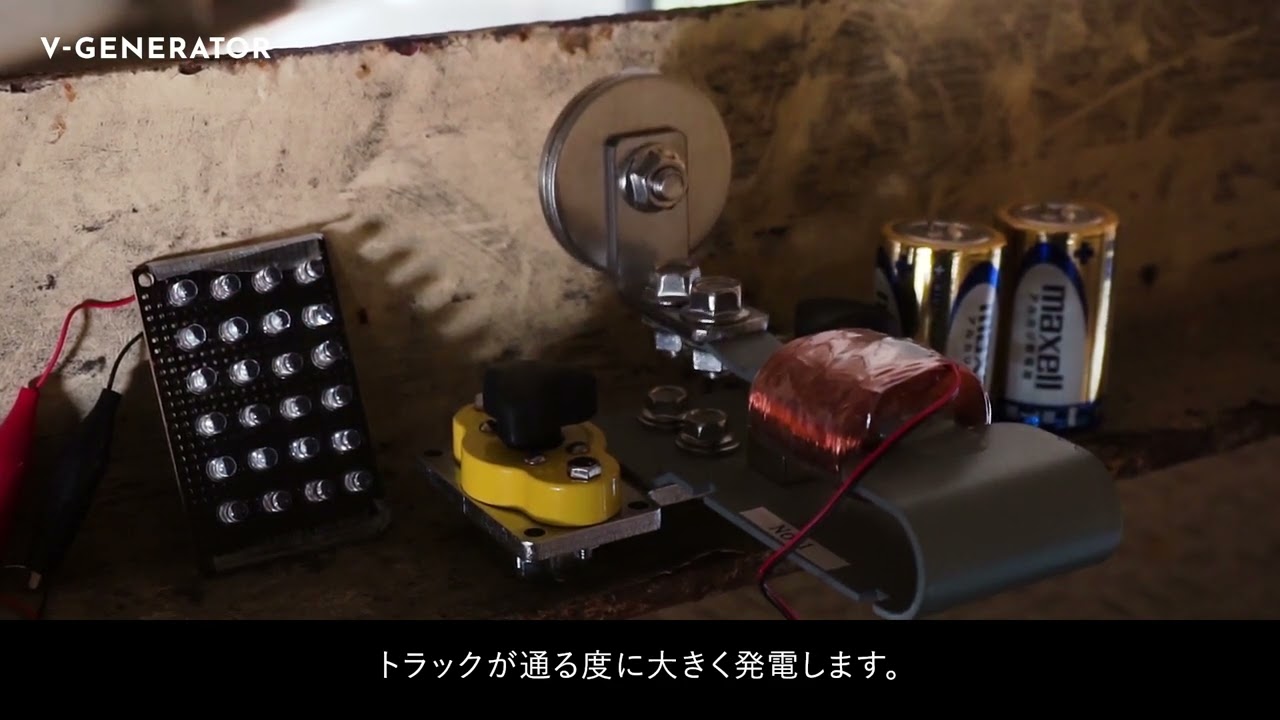 02/02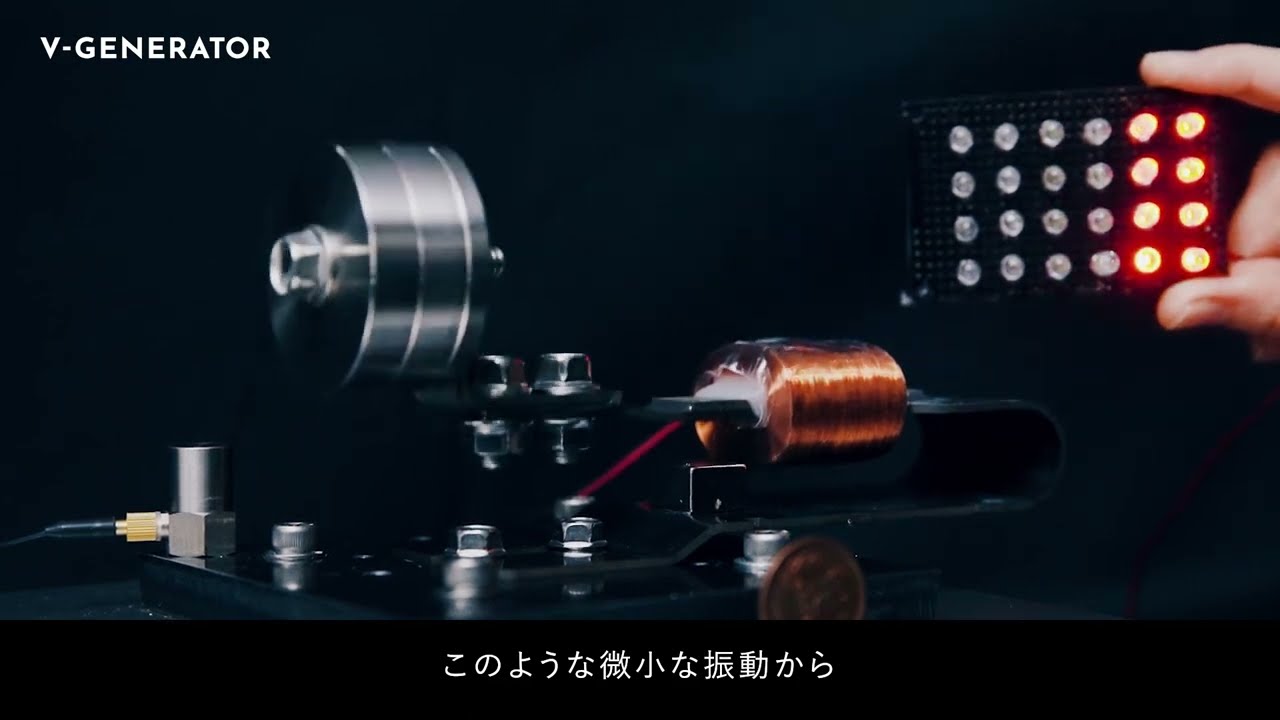 03
Preventing Crime and Accidents in Advance
Alerting Surroundings to Danger
LEDs can flash with movement or impact, and wireless transmissions can also be made. This alerts drivers and helps reduce traffic accidents.
MEMO
Nighttime accidents occur when cars come into contact with pedestrians or objects. Can't these accidents be prevented by alerting drivers in advance? The V-GENERATOR can make LEDs flash in response to vibrations from shoes, alerting drivers to the presence of pedestrians. Additionally, simple actions like impacts, pushing, pulling, or tapping can generate power and transmit wireless signals remotely. In this way, the V-GENERATOR can be used to raise awareness, notify of accidents, and alert to potential dangers.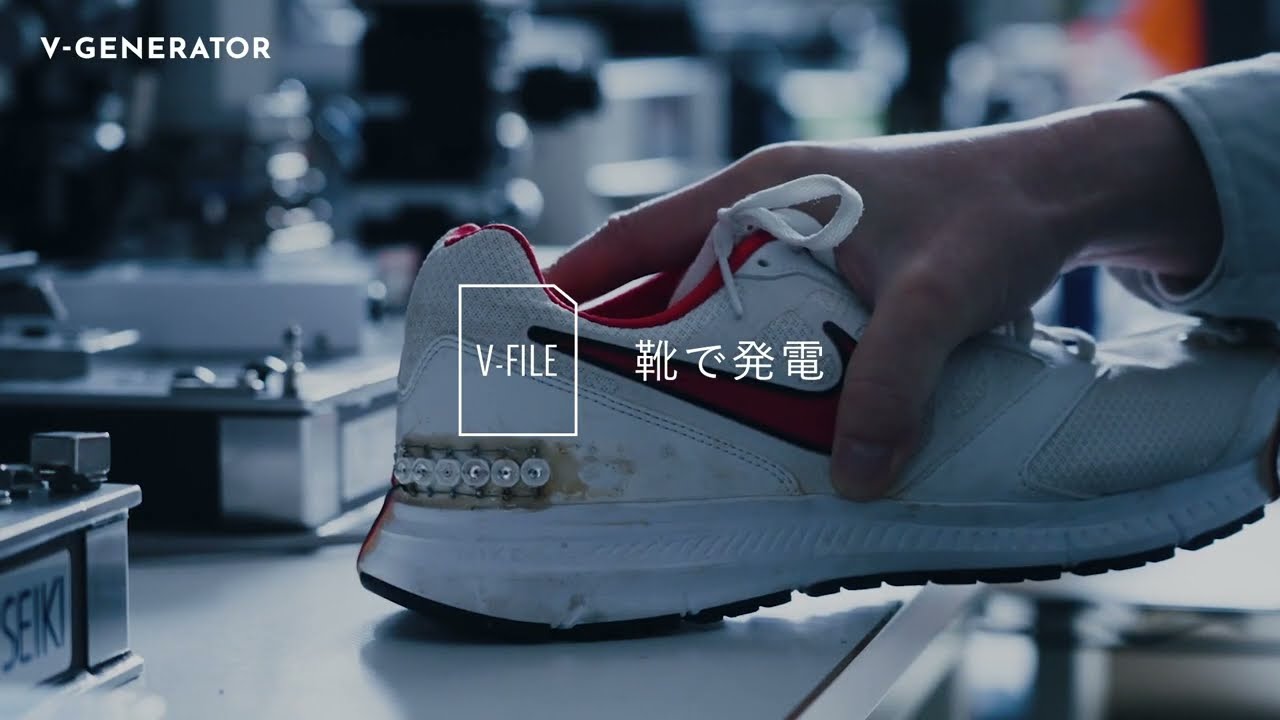 04
Alerting with Movement
For a Convenient and Secure Life
Sends sensor signals with slight movements. Allows for monitoring, security, facility inspections, and management without worrying about batteries.
MEMO
With V-GENERATOR, depending on the idea, you can send sensor data with just a little movement. For example, pressing a button or opening a door can be converted into a power source, and in addition to the on-off movement, temperature and humidity data can also be transmitted. This is possible because of V-GENERATOR. Once set, there is no need to worry about batteries. There are various applications, such as simplifying monitoring (heat shock, heat stroke) and inspection tasks and efficiently using equipment.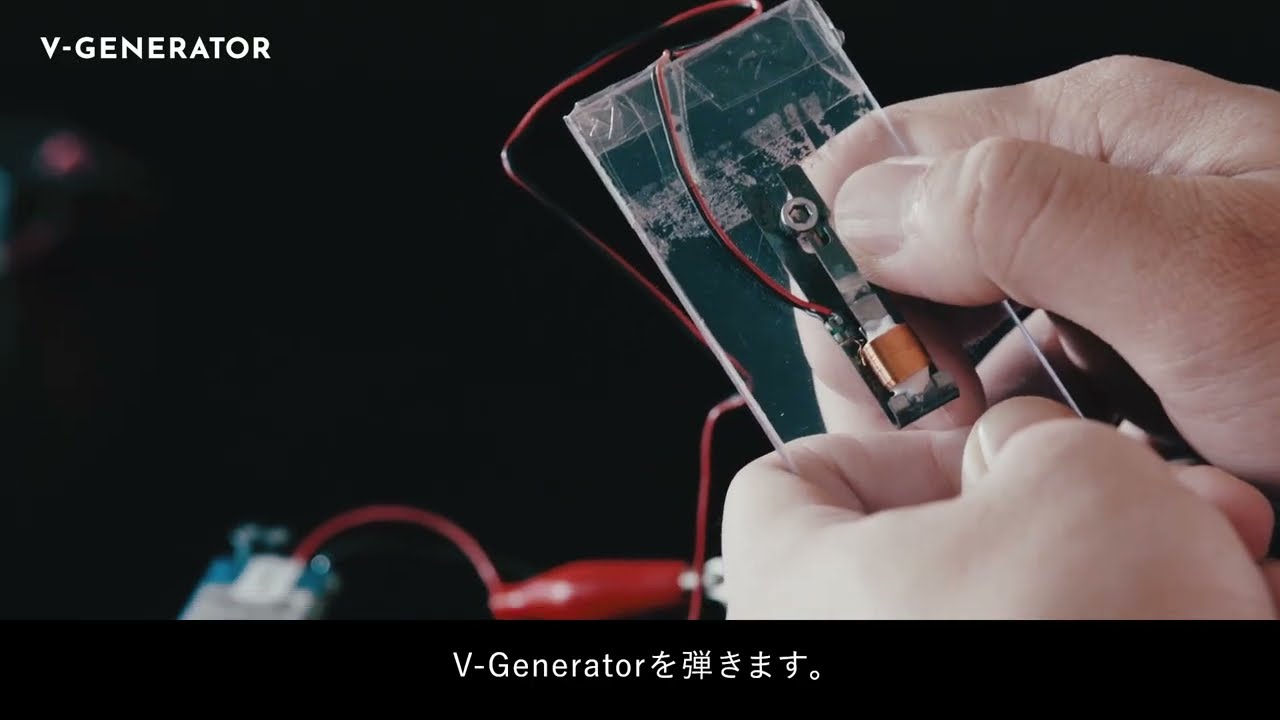 05
New Energy
Achievable on a Different Scale
Generates watt-level power. Aims to utilize untapped energy with an unconventional approach.
MEMO
Energy is the most important issue to be solved in achieving a sustainable society. On the other hand, there are still untapped energies in our daily lives, production activities, and natural phenomena. These include vibrations and movements, such as the movement of healthy people, the vibration of large machinery like cars, and the power of waves. V-GENERATOR generates electricity directly from vibrations and reciprocating motions, not through the conventional principle of rotation. Moreover, the power generated is proportional to the volume. By increasing the size, more power can be generated. This unconventional approach challenges these untapped energies.